Thursday. 3.23.17 11:51 am
I was reminiscing about some guy I was really crazy about many years ago. We had a relationship for a short while but funnily I never felt it was a relationship at all. It felt nothing to me now. Though I was devastated when he replied me mean words during the separation, I now feel so relieved that I had dumped him. I followed a whim on dumping and I never felt so grateful for following my instincts.
Oh well, that's because I can do whatever and go wherever I want now. I spend the money on myself. I think what I appreciate the most is I can do whatever shit I want now without thinking whether my partner would like it or not, whether I need to ask his permission or not. The thing was I didn't even give a shit about that when we were together. He did mentioned before that I liked to visit him whenever it was convenient for me but not for him. The thing was he kept on saying 'anytime, baby'. Bwahaha. I am alpha. Go me!
So now I totally appreciate my freedom and no intention of being in a relationship. Whatever thoughts you have running in your mind after reading this post, I suggest you keep to yourself and be happy for others. =)
Cheers to our own endeavours.
Comment! (0) | Recommend!
Thursday. 3.9.17 8:27 am
I read an article today stating that competent people bring upon themselves extra work because firstly they are so capable in getting things done that superior will just rely on them and secondly they tend to say yes to all jobs. So in the end, they 'choose' to be busy.
That sounds exactly like me. Superior then tend to have higher expectation on these competent people. Therefore, if they didn't perform well due to overload he or she somewhat will be criticised for the tardiness.
I don't want to talk about my work situation but I grow tired already.
So the article indirectly says being incompetent is actually a happier person. Why not? Why do more when the pay stays the same as the competent person who covers so many areas? That's me: doing 2 persons full-time job on a part-time basis. And yet the other full-timers said they are overloaded with work. If I can do it, why not you all too? That says a lot. But I want more pay instead.
Comment! (0) | Recommend!
Saturday. 2.18.17 9:03 am
I now remember why I was so crazy about a Hong Kong movie called the Duel. I was so crazy about Andy Lau's cool character. It's like he was the coolest guy (based on a movie) in 2000. Just look at him in the picture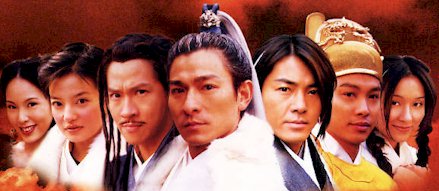 So cool, right? And in the movie, he was a fabulous fighter. He moved so fluidly. Well, which girl doesn't fall for a bad guy?
Ugh. Andy Lau is good looking. I can't deny that.
Aarif Rahman is also handsome. Ahhh....
I think I can have a harem of handsome guys.
Comment! (0) | Recommend!
Sunday. 2.5.17 9:50 am
My heart suddenly became frenzy when I read the Whatsapp message about my friend explaining how he would contend with his life working in the think tank or a research centre and then follow by opening a martial arts centre.
My heart suddenly threw me with an urge to have a life goal like this friend followed by the number of my age. And I could feel how I can't breathe when I compare myself to any other friends about my achievements.
Despite that I can feel my body is telling me we are not like that. My heart being a rebel replied back with fear 'why not?' The replied I heard was 'That's not our life path.' And immediately I am back to normal.
It's not my life path. This is a very powerful reply.
If you think about it, we all have our path and yet it is, sometimes, so hard to follow our life path because it is discriminated by our society or we don't have the courage to answer the calling. Or whatever reasons known to you only.
What's my life path? I think I can feel but I don't have the courage to follow yet because I have something else to settle before embracing.
Comment! (0) | Recommend!
Monday. 1.30.17 6:29 am
Well it's been a month since I updated here. Well nothing much interesting happened other than someone stole my limelight during an audition yesterday.
Anyways, I didn't let it bother me somehow. I was happy to receive a huge red packet from my tarot teacher which was unexpected. Perhaps he sympathises me when I did mentioned that many of my friends are not giving me red packets with the reason 'you are my friend.' I don't see the difference of that sentence with 'I don't want to give you." It's funny how we are so obliged to come up with a reason. I no longer come up with a reason for that because I am not obliged to owe anyone a reason. I am nowadays pretty frank. I got better things to do.
I am year older. That's right but I never thought much of my age except of my appearance. Haha.. I could never escape from the fear of having wrinkles!!
Happy Chinese New Year humans, by the way!
Comment! (1) | Recommend!
Thursday. 12.22.16 10:16 am
or i should not think.
i am tired or rather extremely frustrated. i was just talking to another friend about how unhappy i were about the friend in my previous post. he seconded that i should be learning simpler songs as the baby step to strengthen my basic in singing. therefore stop singing those hard songs until i master those simple songs. he even gave me examples to justify his reasons.
when i heard that, i flustered in a second. i also justified why i chose to practise difficult songs as part of my learning. it's simply because i attended vocal lessons before and my teacher chose such songs for me to learn. i remember it took me a long time to be able to sing them well amidst the period i have difficulty in accepting my own voice. i have come to the point where i was able to sing well (not like a pro alright) for a beginner. i practice a lot. and i stopped for 6 yrs.
then he said i should not listen to the teachers because they limit my skills and... they only want the money and not really prioritising my welfare. i was so mad, again. what is wrong with singing damn difficult songs for a beginner?!
as i was drafting this post in my head, i recalled the choir teacher in new zealand taught us singing with foreign folk songs. that was where i developed interest in choir singing. that period was my most enjoyable singing sessions. nothing can replicate them. ok. i have to admit the choir teacher did teach us songs that are simple to sing. it took him 3 months to make us sound presentable for event! and you know what? yes the folk songs were simple. but it was still complex and harder than singing those difficult songs. we were separated into 4 groups without knowing who is in alto, soprano, bass and tenor. he just said 'ok you go here.. there' and then sing! when we were separated, we had to memorise a given tune and memorise it and then sing!! while trying hard not to be distracted by other group's tune!! yup, that is choir! like Pentatonix. each member becomes an instrument and then combine into a melody. that was hard! but i love it. it was so challenging. we think singing those high pitch is difficult. actually the most difficult part is to maintain your part in one single tune throughout the whole song. were the folk songs difficult? not really. they were enjoyable to sing. i even sing one of them now. ok. i have learnt those folk songs. and now what? did i sing them according to tune? can't verify because many of them are not found on youtube. and these folk songs can be sung in lower or higher octave. there is no wrong or right. do you sing your folk songs exactly by its tune? you just sing it as what you remember and assume that you were singing at the right pitch. unless you go back to history and youtube the creator. that's why it's called creativity.
so i go sing twinkle twinkle little star? ok. i went youtube and search for those rhymes. those kids sang in such high note! and it's just about some stars! ok ok renaye stick to the pitching... but hey! it's some damn high note! and all i wanted is to practice hearing! i think i scored better with those vocal warm up exercises on youtube. to be frank my hearing is not that really bad.... it's just about confidence. it's just about scoring well.
so why was i so work up again tonight? why did i let others to tell me how i should improve my skills? i should be listening and filtering what works for me. i should know my own learning skills. i am an old adult now. i should know what my learning skill is by now. people can tell me whatever they think is right but only I will know what works.
yes, teachers may just want my money and not teach well. then why do we go to university? especially in this age we can learn anything from the internet, why then we still go to university? moreover we pay a hefty sum for just a piece of paper at the end of the education? why?
my friend mentioned that top hollywood actors went to the most prestigious acting school like juiliard to hone their acting skills. why do they then go to acting schools? why not learn on their own? those teachers should be of no quality because if they are good they should be on screen... not resorting to teaching isn't it? so why do they go to those famous acting school? WHY?
so why can't i learn singing from a teacher? yes, i can learn on my own but i still need an expert to tell me how i can further improve. to sing on my own has the danger of singing within my own comfort zone. "oh i can't sing this high so i will sing a note lower. ' if so how do i improve?
then.. why do those famous japanese singers have vocal classes? ayumi hamasaki, the top japanese singer, was sent to new york to learn singing. why then? why do those singing contests like the voice have judges mentoring those short-listed. why? these participants are good, why then further coach them? why not let them learn on their own? why then? if you watch these reality shows, you will hear the mentor's comments on their mentees like why he/she chose a particular song for their mentees to sing.
i know they meant well. were they encouraging? no, i feel they are limiting myself instead.
the same thing. my teachers can say anything they like but it will be up to me making decisions.
these teachers have been there done that. i am paying for them to pass down to me their knowledge inclusive the parts they have gone wrong and right to be where they are now. they have the experience.
yes, there are people who don't need external help but i am not one of them. i know i m the type who learn faster if someone teaches me.
for this friend whom i talked to tonight... you were the one who told me don't listen to others that will be including yourself because what you have been telling me is very contradicting.
i am feeling better writing this long. till then.
Comment! (0) | Recommend!