Thursday. 1.5.12 8:02 am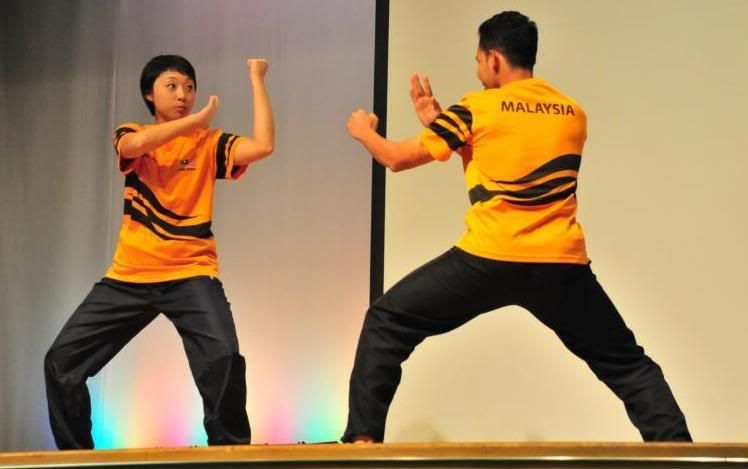 On 10 December 2011 ...
I actually don't know what possessed me to volunteer to present the Cambodian martial arts to the PYs. Maybe I could not escape from the word "FREE GIFT" when I was told that I would be getting some souvenirs from Cambodia should I say yes. Oh well... old habit die hard, I guess. So I said yes. But the truth is not because of the free gift, it's to try out new things and not wanting to regret for letting go any limelight moment (just kidding)! And I was told my partner will be my YL.
BWAHAHA. I will be kicking my YL's a**. I like that. (evil laugh)
I practised a lot of times so our stances look real as I was sooo concerned that my physical limitations will ruin the performance. Also, I have lost touch with my martial art skills, thus, more concern wrinkles on my face.
When YL and I appeared on stage, my contingent members who were sitting on the floor were shouting in Malay "Hey ... don't forget to be gentle when you hit YL'" and "Yay! AYL is in action with YL". I wanted to bare my teeth at them but I can't since any martial art sessions require serious look from participants. =(
So anyways, we did two actions. One is where I reflect YL's hit and the other is YL reflecting my hit. It was an interesting performance, though I'm having difficulty in sitting on my leg position. And ... I dislike my expression in this photo. It makes me look like Garfield! ARGHHH!
Spinoff
: I chose to join the Cambodian martial arts as my cultural activity. I still remember how the person-in-charge of this activity tried to convince me to volunteer to do a presentation. I knew of his intention when he approached me, so I kept avoiding him. It ended up in a hide and seek game. Not literally or verbally but physically! I ran around the deck before hiding behind a huge pillar and popping my head left and right as he tried to talk to me. I guess I had fun bullying him. BWAHAHA. (evil laugh). You know he almost gave up on me! I know I'm very EVIL and NAUGHTY!
If you are a member, try logging in again or accessing this page here.