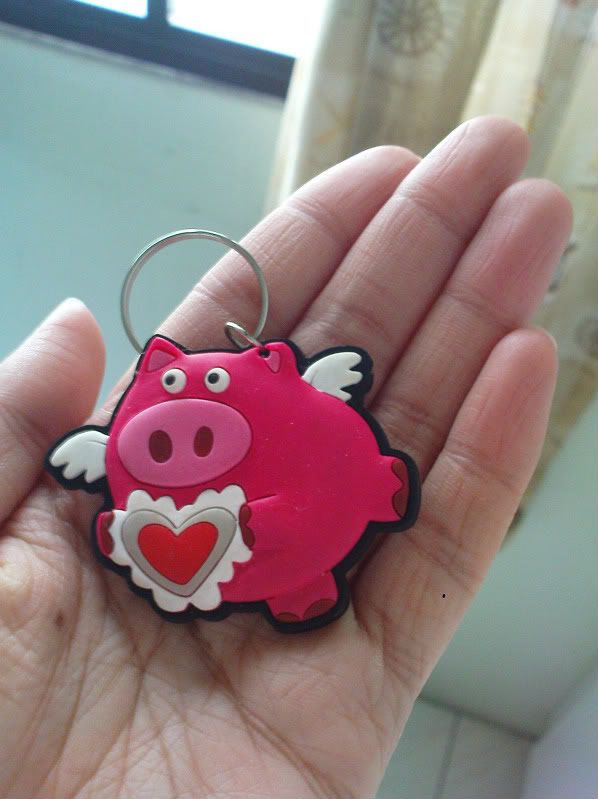 Funny. I never expected to receive such item from my fellow team member on the 4th of December 2011 in the afternoon.
We arrived in Vietnam on that day, and all the Vietnamese participants were thrilled to see their friends coming on board. And they were announcing out loud to the others to view the performances on the port. It was a welcoming reception performance. Many participants went to the 4th floor deck to see it. I could hear the upbeat music playing in the background, but I didn't join them because I was simply busy occupied by my laziness. HAHA.
But I was watching the performance from the third floor through a panel glass window - nothing beats the comfort of indoor. I didn't stay long to watch (and I don't remember what I was doing at that time; I only remember that I was busy walking around).
Approximately 30 minutes later, I asked one of my team members if the performance was still on going as the music was repeating. I was surprised to hear that the Vietnamese youth were still performing! And they are doing it under the hot sun despite the crowd has faded. Upon hearing it and not wanting the youth's effort to go to waste, I decided to climb 4th floor to join the tiny crowd. I stood beside my fellow team members and hey .. I was just in the nick of time to see the youth performing my favourite Korean song: I AM THE BEST. I sang along, and my body was also moving with the rhythm.
As I was singing along, my team member on my right suddenly smiled and said to me "I finally see my AYL (assistant youth leader) smiling." I stopped dead in my tracks, and replied "Have I not been smiling all this time?". The replied was "No ... I rarely see your smile, and this is the first time I'm seeing you in such relax manner." I was actually surprised to hear him complaining about me. Haha.
Later in the afternoon, I found a small colourful envelope in my mailbox. It was a piggy keychain with a message: I finally see you smiling! from the complainer.
How sweet. I returned him a thank you message with chocolates within the same day.
If you are a member, try logging in again or accessing this page here.